Computer Truck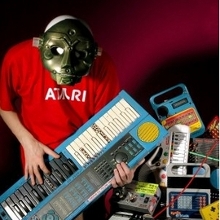 French composer, mixing chip-instruments with modern sounds. His music is intense and varied, mostly dance-oriented, hard and melodic.
Active members since 2002 of the Paris Hq micromusic he helped to develop the chiptune & low fi electro scene in France by organising concerts and inviting artists who never had the chance to play in Paris. That's during these shows that he started his first gigs under the pseudo Computer Truck…
During the same period he was introduced to circuit bending and started using bended toys & synth for his music.
His influence are varied, from retro electropop to breakcore and harsh noize. He describe his music by "riot toy party music", a music you can dance on and wich evolve to the 80's c64 sound to "ultime electrogrind music" (which you can only listen during the gigs because his more violent tracks have not yet been released so don't search on his myspace or webpage…) with uncomprehensible voice on it thanks to his Halloween special fx voice transformer. A music made to unite retarded nerds and crustyPunx.
ps : laptop plus diverse transformed toyz and voice...